As a franchise owner, you have to be mindful of how exactly your money gets spent. With a portion of your earnings going to franchise fees and monthly costs like rent, equipment, cost of goods sold, and the like, there are a number of — well — numbers of which you should be aware.
Factor in that many franchisors have national advertising campaigns running at any given time, and it can become difficult for you to know how to best spend your marketing budget to promote your individual location.
While it's true that a larger budget generally translates into bigger results, every little bit of marketing budget helps — if it's spent the right way. The right way can vary widely depending on your industry.
You can still market your franchise with a small budget. Here's how.
Click To Tweet
Here are our tips for maximizing your franchise marketing budget to make the biggest impact in your industry.
Find the Best Franchise Marketing Plan for Your Industry
Restaurants
If you're a restaurant franchise, your main priority is driving people to your door to grab food. Your second priority is probably to gain loyal customers after their first visit. You can accomplish both of these goals without a very large budget.
First, you need to make sure your business listings are in order. Having an accurate, consistent Name, Address, Phone Number, and URL (NAPU) on core business listings and niche restaurant sites will help customers locate you and boost your local search presence.
Reputation management should also be a component of your restaurant franchise marketing strategy. Often, restaurant listings include a review section where customers can provide details on their experiences — good, bad, or ugly. Put your budget toward a program to collect, monitor, and handle reviews to ensure that any negative feedback is dealt with promptly and properly.
If you have any budget to spare, social media marketing is another great way to market a restaurant franchise. Maintaining an organic presence on social media can boost your search prominence and brand awareness, and paid advertising can drive local traffic to your stores.
Health & Fitness
Health and fitness franchise owners should focus their marketing budgets on social media platforms that can reinforce franchise-wide branding while making a local impact. Instagram and Pinterest are both popular platforms for the health and fitness industry.
According to a 2015 study by Ahalogy, the health and fitness category ranks in the top 10 most-browsed categories by active and daily Pinterest users, and 40% of daily users consider Pinterest their "Go-To" source for health and fitness content. 39% of daily users look up pins on their phones when in health food or natural food stores, and 30% browse the exercise/fitness product category while shopping. Promoted pins — Pinterest's paid advertising model — are effective for the industry, with 46% of active daily users purchasing exercise/fitness products from a promoted pin.
Building a solid organic Instagram presence can also boost your health and fitness franchise. Share photos from your location to showcase happy, healthy customers. Snap pics of any local events you participate in, and be sure to tag other prominent local businesses to increase awareness. You can also incorporate paid Instagram ads into your marketing plan. Investing some of your budget in a sound Instagram strategy can make a big difference!
Auto Repair & Maintenance
While restaurants and health and fitness franchises may be more concerned with branding, auto repair franchises typically aren't. The main impetus behind your marketing is to get more business from people with an immediate need for your services. That means you need to focus efforts on being present in the places people turn when in need of auto repair.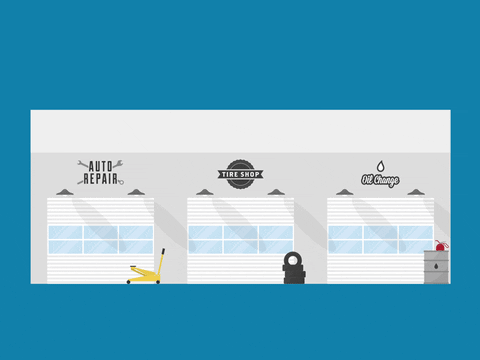 Where's that? If you guessed Google, you're right. According to the search engine giant, searches for vehicle maintenance have grown 66% over three years, oil change searches are up 63% over two years, and 42% of maintenance-related topics included the term "repair." Without well-optimized web content — whether on your franchise website or an external blog — your auto franchise may be losing out on key business. Placing some of your budget toward on-page optimization or blogging is a sound idea.
Google data also shows that 73% of customers definitely or most likely intend to return to the most recent auto repair and maintenance specialist they visited, highlighting the need for reputation management. A good program will help you collect reviews from happy customers and minimize fallout from negative reviews.
Tailor-Made Franchise Marketing Strategies
Aside from our immense online marketing know-how, one of the best features of Franchise Marketing Group is that we abhor cookie cutter franchise marketing strategies. We work with franchisees and franchisors to develop totally custom and effective marketing plans.
Let's get started on creating a cost-effective, results-driven franchise marketing program! Call (971) 212-4026 today.